*rees for the wrist!
July 17th, 2007 (12:24 am)
The newest julie*ry goodies would love to hang out on your wrist!

These new bracelets feature a colorful array of beautiful beads, from Czech glass to mother-of-pearl to vintage Swarovski crystal. They look lovely worn individually, or stacked all together.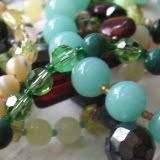 I love them all, but the next one I'm listing in my Etsy shop is my favorite. I think the summery combination of sea green and golden pink turned out beautifully.